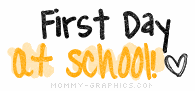 5th January.......
back to regular routine...
early night....early rise!!
but everyone is exited though...
specially this little big sis.
.
Balqis!
why not? she is in standard 3 and she was elected 'pegawas' this year, that means she is one of the school prefect. She collected her green blazer today! So....she will be in green and not in blue through out the year......hehehe....
some more good news for her....! She was in class 2B last year......and this year she was promoted to class 3A..is that a wow!! or what?? hehehe...The thing is, she goes to a Chinese school in kinder and standard 1, but bcoz
Syasya
prefers to go to a non Chinese school, so we registered them both in the same school......more convenient for everybody!! Balqis was a bit lost at the beginning of the school session last year. In fact, both of them are, due to communication problem, since their Malay is a bit poor.... ( oh..owh! hope nobody is going to critizise me for this.....) hehehe

Syasya.
..the happy go lucky one, seems like from standard 1C last year, was also promoted to 2A this year...thank God! otherwise, sure she will feel discourage .....well then, like they've both overcome their weakness....
I hope they will do better this year since they are more comfortable and having a better sense of belonging......
for the others kids....
Rafiq
after the PMR,
he's in for the CIVIL ENGINEERING class, and
Fiffy
....still in her
pure science form 5class...(SPM 2009) good luck girl!
as for me,
oh...... I'm going to missed the holidays.
the stay up late....
the sneaking back to bed after the morning prayers'
then waking up late in the morning! : )
really.... as much as I wanna be.... I'm not a perfect mom!
huhuhu....